Hello everyone.
Hope you all are safe. In this blog, I am going to share my experience as a participant., or rather Contributor, in GirlScript Summer of Code 2021. I'll start with Open Source and continue with how GSSoC can give a kickstart to your Open-Source journey.

Open Source
The term open source refers to something people can modify and share because its design is publicly accessible. We all have come across open source software many times and we may have not even realized it. Some examples include Linux, VLC Media Player, Mozilla Firefox, and many more. Open source software is software with source code that anyone can inspect, modify, and enhance. It is a great way to get real-world software development experience from the comfort of your home. Benefits of contributing to open- source are endless, one not only gains exposure but can also test their skills, gain knowledge and bond with the community in order to produce quality code that helps people around the world.

GirlScript Summer of Code

GirlScript Summer of Code is the 3 month long Open Source program during summers conducted by GirlScript Foundation, started in 2018, with an aim to help beginners get started with Open Source Development while encouraging diversity. Throughout the program, participants contribute to different projects under guidance of experienced mentors. Top participants get exciting goodies and opportunities.

Procedures
The application period for the participants and mentors starts from January and closes around the first week of February. I waited patiently for days until I got a mail telling me that I was selected as a participant and on 17th February 2021 I got my selection mail and was really excited to give a kickstart to my open source journey 🤩

Contribution Phase
There were 100+ Projects and selecting the one which suits your tech stacks was one of the major tasks. Though initially, I contributed to some projects involving JavaScript changes, Validations and Pyament Integrations but soon I got myself connected to Flask Generate Certificate and Bulk Mailer. Both of these projects were well-maintained by Vignesh Shetty. The initial contribution phase concluded within a month and now I was well aware of the project that I was going to contribute to.

Coding Period
This is the main part of GSSoC. Normally, personal projects are assigned to each participants but this year, we're free to choose any project to contribute within the duration of 3-months. There were points on the basis of levels of PRs and a leaderboard was being maintained by Praveen Sir to track the progress of each participant. Although, open source contribution doesn't need to be compared with points or marks, but this definitely encourages participants to contribute more.
During the coding period, I mainly contributed to the above two projects. Flask Generate Certificate or Certificate Generation and Verification project aims in developing a computerized system to maintain and generate certificates. In this project, I worked on several issues like generating certificates dynamically, importing CSVs, and many more. In total, I had 100+ commits and around 40 PRs in this project only.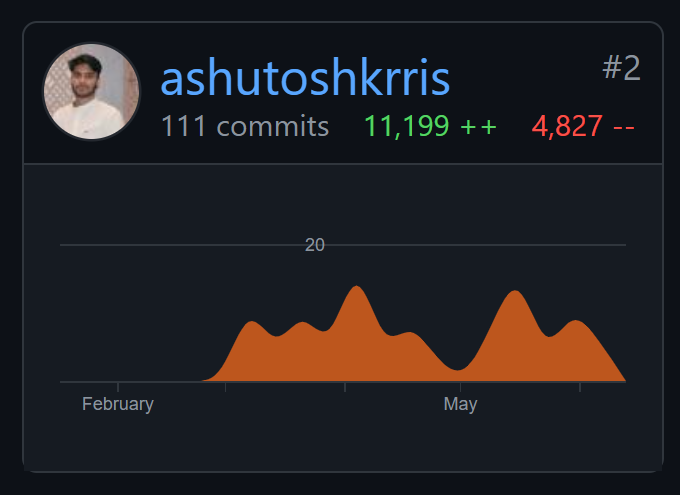 Apart from that, I also worked on Bulk Mailer by Vignesh again, a project that can be used to send emails number of users at a time. Other projects that I contributed to were Share N Learn by Chiraag Kakar, Pro Act by Sruti Chatterjee and Jagrati Web App by Priyansh Garg.
With 66 PRs in total and a rank of 17 out of around 1300 participants, my journey of GSSoC might have concluded here. But the start which GSSoC has given to my Open Source Journey will surely help me reach greater heights in my tech career.

Major Takeaways
Contribute to projects that interest you even if they use an altogether new tech stack, in my case I selected MakesMathEasy knowing the fact that it includes Javascript and I didn't know about Javascript at all. I believe in the process of learning while doing.
Never ever hesitate to ask doubts, the mentors are ready to solve even the silliest doubts. All you need is patience and willingness to learn.
Always, read the contribution guidelines and go through the project's guide on how to start, how to set up a project on your local PC, and start your goal of making your first contribution.
Make sure you go through basic Git Commands. You can learn more about them here.
Stay active in the coding community and help fellow participants as much as you can.
Special Mentions
I'd like to thank Anubha Maneshwar, Mohit Varu, Salil Naik, Ruchika Modgil and the entire team of GSSoC for organising such an event where participants of any level, whether beginner or expert, can join and work together.
I'd like to thank my Project Admin, Vignesh Shetty as well, without this three month journey won't have been as such.
The final and the most amazing part of my journey was when I came to know that CGV was going to get its first client and it was non other than GSSoC itself. So, basically I generated the certificate for myself as well 😜.