Introduction
Have you come across situations when you need to download certain YouTube videos? Or you wish to download Instagram media. Bet me, you must have come. In those cases, you would need to download apps explicitly for YouTube and Instagram.
But hey, the problem is now over! It's here, yes!!!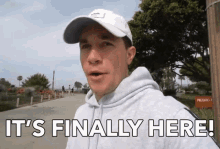 EazyLoader is a Flask-based web application built to make downloading and your life easy for you. Now no need to use separate apps for YouTube and Instagram. Uninstall them right away, if you have!!
Check out the application - https://eazyloader.herokuapp.com

Features
Trust us, EazyLoader is loaded with a lot of features, and we are continuously working to add more and more.
Currently, we have the following features:
YouTube Downloader
Download videos and shorts from YouTube, that too in resolutions up to 1080p. Yes, you heard it right, 1080p!!!!
Download audio from YouTube videos in the best available quality. Well, you might need it when you just want to listen to the video, isn't it?
We often wish to know how much time would it take to completely watch a YouTube playlist, and thus we present you YouTube Playlist Duration Calculator. Calculate YouTube playlist duration at different speeds(1x, 1.25x, 1.5x, 1.75x, 2x ). If you are a learner or a binge watcher, it would really come in handy.

Instagram Downloader
Download high-quality profile pictures of users from Instagram. Well, it's a feature and should not be misused at all.
Download post images, whether with just one picture or series of pictures, easily.
Download videos, reels, and IGTV videos in good resolution. This would, by far, be the best feature, right?
Download the latest stories from users. The numbers won't matter to us!

Limitations
Yes, we have some limitations, and we are not ashamed to post it publicly!
You won't be able to download media(except profile pictures) from Instagram private accounts.
We're using free resources to serve you the application. So you might come across errors when you are downloading large media. Sorry, but we need your support to resolve this problem!
The application is still in development, and we are trying to resolve as many bugs as we encounter.

Future Scopes
The project is continuously being developed. We have plans of adding more features such as YouTube Playlist Downloader and YouTube Channel Downloader. You can also suggest more features. Fill up the contact form on the website for the same.

Screenshots
Homepage

YouTube Video and Shorts Downloader

YouTube Audio Downloader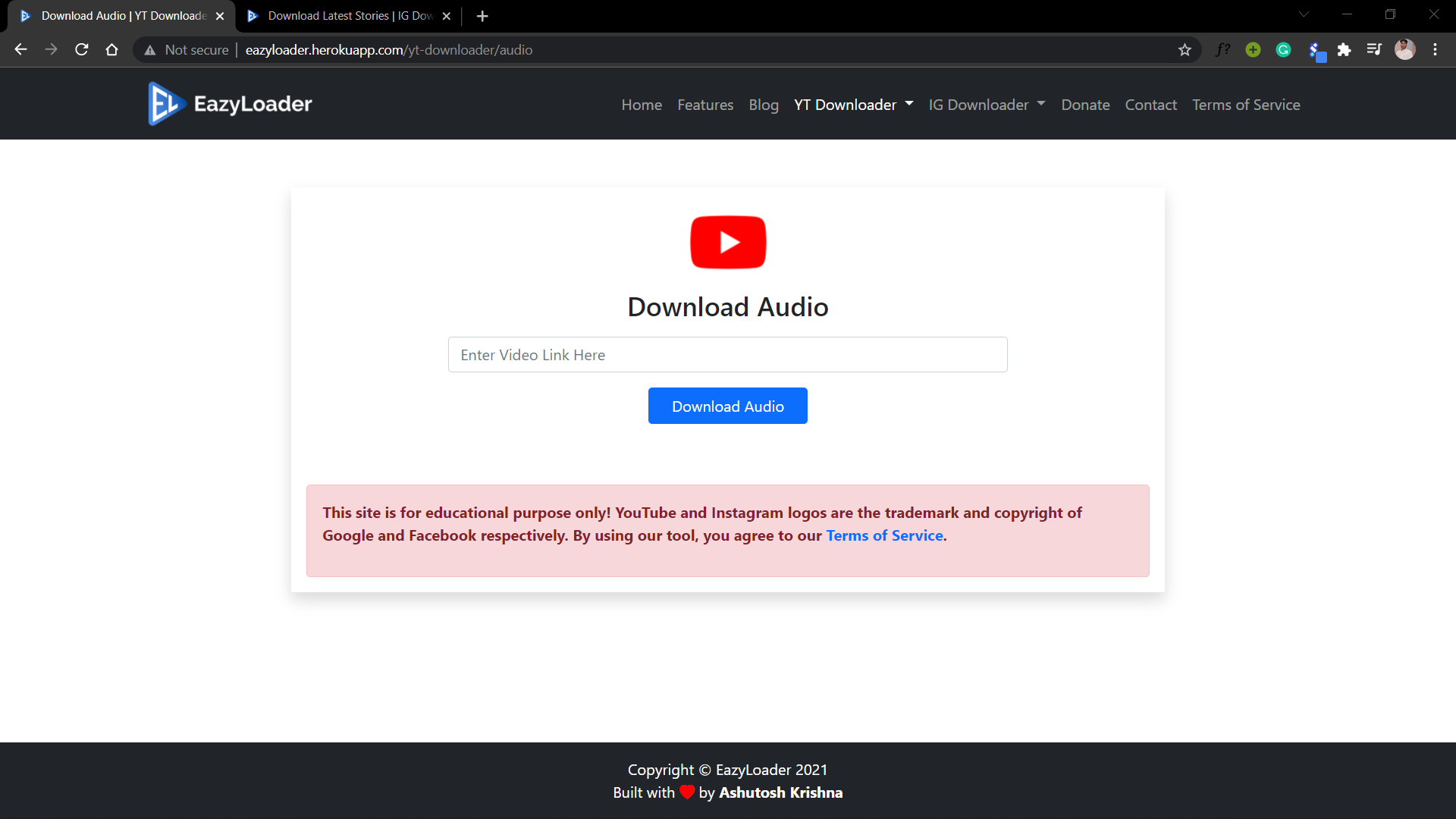 YouTube Playlist Duration Calculator

YouTube Playlist Duration Calculator - Result

Instagram Profile Picture Downloader

Instagram Post Images Downloader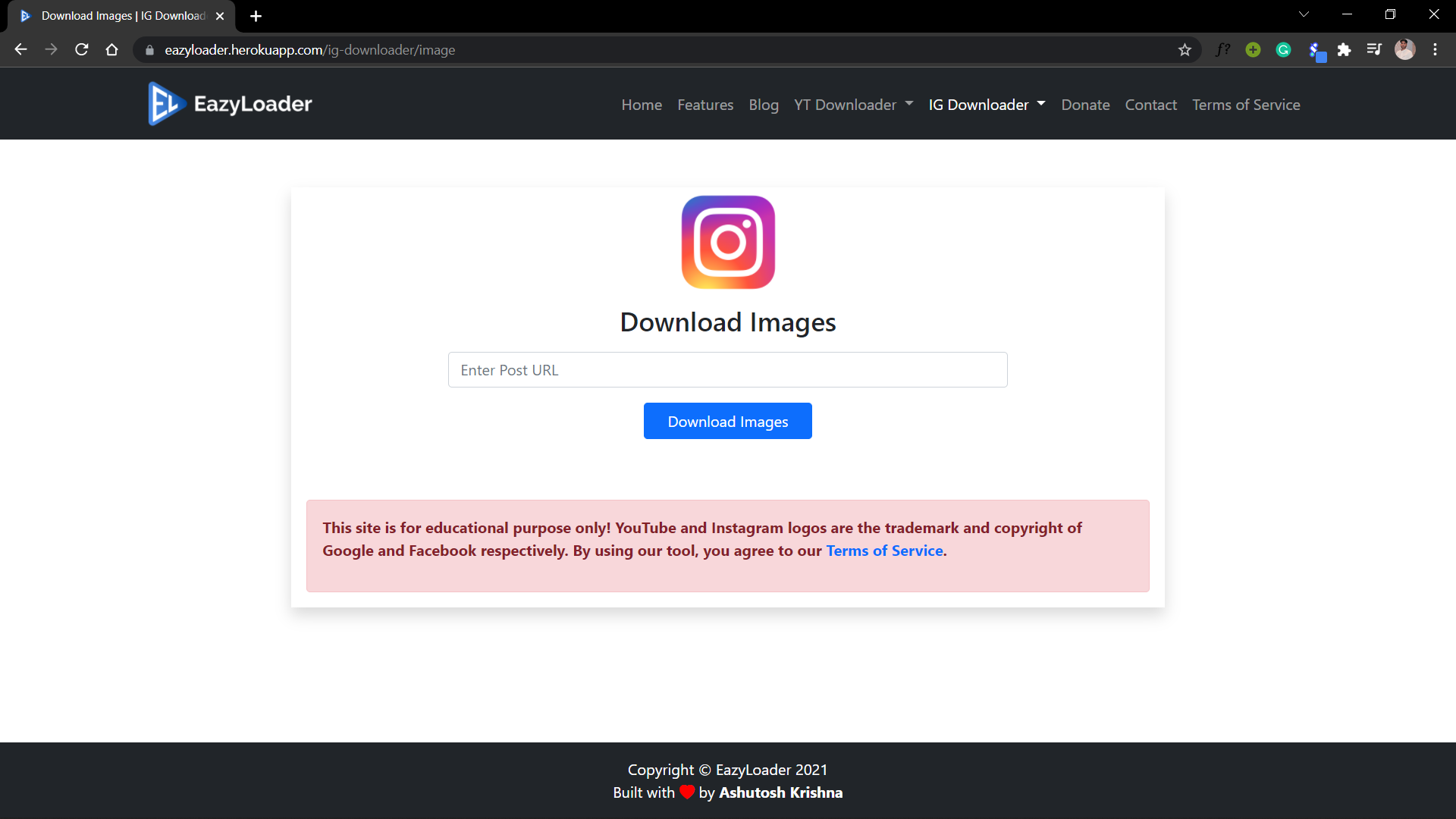 Instagram Video/Reels/IGTV Downloader
Instagram User Stories Downloader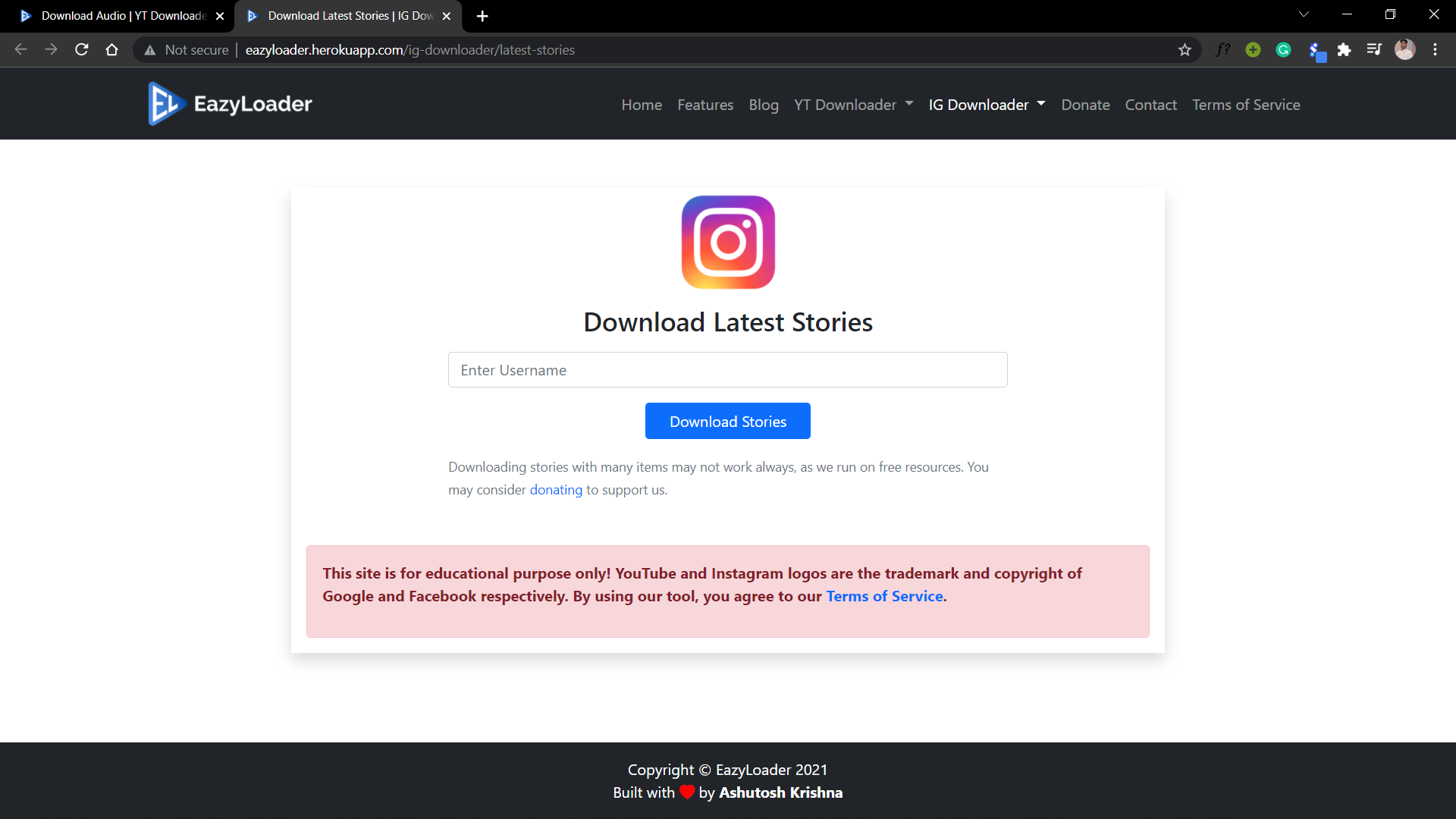 Support
Since we use free resources, EazyLoader needs your support. If EazyLoader is useful to you, please consider making a donation of ₹50, ₹100, or whatever you can to protect and sustain EazyLoader. If everyone who uses Eazyloader gave just a little, we could keep Eazyloader thriving for years to come. The price of a cup of coffee is all we ask. You can donate using Stripe and Razorpay.
Even if you cannot donate, you can support us the other way. Use the button below to upvote our application on Product Hunt.
Thanks for bearing us!
Note: This application is for educational purposes only! YouTube and Instagram logos are the trademark and copyright of Google and Facebook respectively. By using our tool, you agree to our Terms of Service.