You might have come across people sharing their LinkTree or Znaplink links. These links are one page to place all your links, be it your Github profile or your YouTube channel. One such link from Znaplink is https://znap.link/ireadblog. This is definitely a super cool idea, but as a developer, you don't write any code.
Well, I have created an open-source Github repository using which you can create a Linkify profile similar to the thumbnail of this post. All you have to do is to edit your details and you will be ready to rock! Follow along to create your profile. Make sure you have a Github account. If not, signup for a free account here.

Fork the Repository
The very first step is to fork this Github repository.


Add Your Details
Clone the forked repository from your Github profile and open it in a code editor of your choice.
Step 1: Copy the URL

Step 2: Open Terminal in your system
Open the terminal in your system or your code editor and write the command:
$ git clone <paste-your-url-here>
Replace <paste-your-url-here> with the link, you had copied in the previous step.

Step 3: Edit Details
Go through the index.html file. You'll find several TODOs where you need to change the details with yours. In one of the parts, you can add your all links. Apart from these, replace the logo.png and the favicon files. To generate favicons for an image, use this tool. You're free to play with the HTML file and change the colors and fonts as per your choice.

Push your changes
Once you've made all the required changes, you're ready to push the updated files back to Github.
$ git add .
$ git commit -m "Update files"
$ git push origin main
Deploy it
Once you have pushed the changes, go to your Github repository and click on the Settings tab.

On the Settings page, click on the Pages tab. Choose the root and branch and save it. Once you save it, you'll get a link.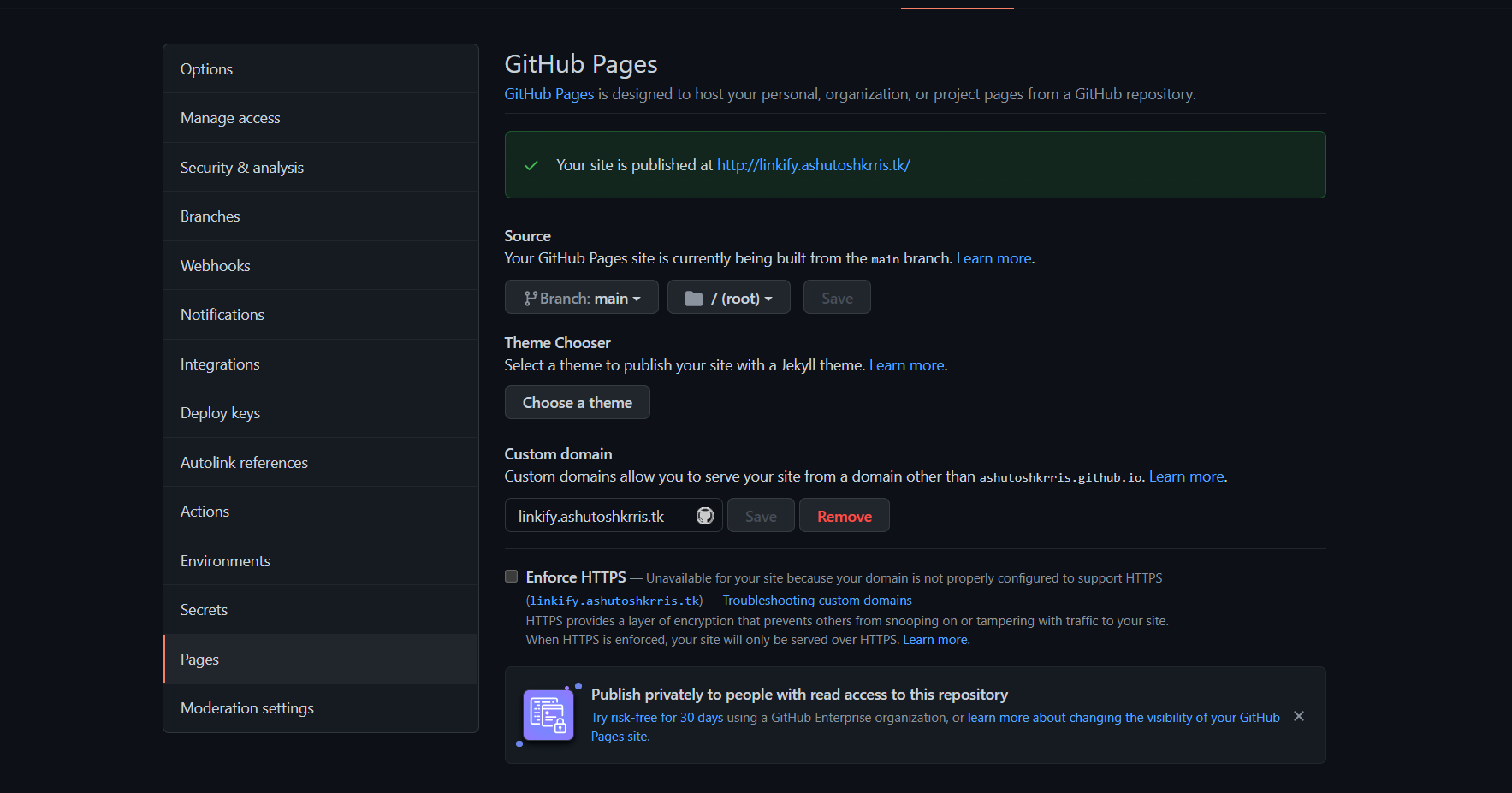 Hurray! You just deployed your site.

Wrapping Up
You now have a Linkify page to show off all your links in one place. Share it with your friends and don't forget to star the repository!
Thanks for reading! Share your page in the comments section.